Background
It all started back in 2013.
The company I work for wanted to relocate me from Serbia to the United States. And I liked the idea. Living in the U.S was probably my most important boy's dream. I actually fulfilled a part of it in 2009 when I got a scholarship at Tennessee Tech University that allowed me to study there for one full Academic year.
Living in Tennessee probably wasn't something that I dreamed of, but nevertheless it introduced me to the real America, America not seen in movies. Somehow, I liked it. I was surrounded with smart and easy going people, as well as people from all over the world. My roommate was a Korean guy. Living there for almost a year really gave me the true impression of pros and cons of such a big country – country claimed to be No. 1 in the World. I was most definitely lucky as I had a lot of opportunities to travel. I could go from the concrete jungle seen in NYC and LA, to the peaceful and soul enriching places like Kona, Hawaii and the Grand Canyon, Arizona. From Chicago to Miami. I think I traveled more than 50k miles during my short 9 months stay.
I liked the country. Its sheer beauty with tons of National Parks, with its oceans and lakes, with surreal mountains and deserts, everything was so different, yet beautiful. However, I never seen myself living in TN. I actually had an offer to come back and finish Master's degree at the TNTech, but I decided to give Europe a try. With lots of pros there come cons as well – nothing is perfect. I definitely missed my family and friends back in Serbia. I missed the Serbian food, I missed the long nights near the Nisava river's quay drinking beer and having fun. I didn't like the genuine individualism in each and every American I'd met. Maybe because I grew up in a Socialist country where people are expected to care about other people, where the society is held together through the good and the bad times. I didn't see this in the U.S. Anyway, when I came back home many people asked me whether I could live there for good. My initial response back then was: no.
After a little while, I got a job at MotionDSP. They had headquarters in the Valley, but the whole dev team was in Serbia. Exceptional team, very good salary, interesting technology, American company – all this was enough for me to join the company and stay with it through the years. The team knew about my background and my university experience in the States. Since, pretty much all of our customers were in the U.S and I talked much about my impressions of America, an interesting idea of me going back there and help with customer specific problems, not easily solved here due to time zone difference and the distance of the team, came up. And that was in the beginning of 2013. I remember that email sent from our VP of Engineering that read: "Did you have a timeframe in mind for moving to the US? That is , outside what ever the process takes to get approval?"
Of course, initially it was quite shocking idea of me moving to the States for good. What about my family, friends, networks that I've built for the last 20+ years. I was thinking about it for days and weeks, weighting again the pros and cons of such a life changing decision. The thing I kept hearing often was: "You can always come back". That resonated heavily with me and I decided that I do not want to miss this once-in-a-lifetime opportunity.
So the immigration process had begun.
The Damned H1B (and the Lottery)
The first thing we needed to do in order to properly move me to the U.S. was to understand under which nonimmigrant visa category I would fall. Since, H1B was a reasonable choice at a time (relatively straightforward process and not so expensive), we opted for it. The Company hired an experienced attorney so she could lead the whole process and we started working on the application.
By the time attorney started working on the application it was already beginning of March. For the H1B category, USCIS (United States Citizenship and Immigration Services) is set 1st of April of each year as the date when it starts receiving applications for the next fiscal year (with the work starting date no earlier than 1st of October). Since we had only less than a month to prepare all the necessary documents needed for the application, I volunteered my free time to get everything what's up to me.
The first step was to get the prevailing wage information from the DOL (Department of Labor). The LCA (Labor Condition Application) was filled online on https://icert.doleta.gov and it took around a week to get it certified, so that was easy. LCA is needed so the Employer can show that it will pay no less than the prevailing wage for the offered position. This is how U.S. is protecting its workforce.
Second, we needed my degree evaluated by the independent 3rd party agency so we could get the U.S. equivalent. Most of the universities have their own departments that do these types of evaluations, but probably the most famous independent agency is WES. We didn't go through WES, though, as our lawyer already had the agency she worked with so we submitted all the required documents to it. In regard to docs, they basically needed my Diploma, as well as the transcript of all passed courses along with earned grades. Of course, the translation of these documents also had to be provided. It took them around a week to get my Diploma evaluated and as expected it was equal to the U.S. Master of Science in Computer Science academic degree. This is based on a 5-year curriculum and a course work of 50 exams – some may say 300 ECTS credits in EU Bologna terms.
By the time we had these ready, our attorney successfully filled the Form I-129, Petition for a Nonimmigrant Worker – available on USCIS website. I also had to provide my recent CV and photocopies of my passport and all U.S. visas previously issued, and the company had to provide detailed job description, as well as the position I will hold in the U.S. They also had to provide executive summaries/technical summaries, marketing material and financial information.
After all the docs from the Checklist had been collected, we were ready for the 1st! I must say that everything went so smooth in those couple of weeks and we managed to prepare everything even a week prior to the filling date. So the 1st came and our application was on its way!
Happy as I could be – hell, in just couple of months I'll be in the U.S. fulfilling my childhood dream! Couple of days later, information about the H1B cap being reached was posted on the USCIS website. Not only that it has been reached, but more than 125 thousand people applied for H1B! Oh, I forgot to mention – USCIS allows only 65k visas for regular cap annually and 20k more for the people holding advanced degrees from the U.S. universities! What's next I wondered, until I read that they will conduct a lottery and randomly select first 20k that meet the U.S. degree criteria and then put the remaining of those into the pool with the others and randomly select 65k more. I was shocked!
It didn't matter that we were among the first whose petition was received by the USCIS, it didn't matter that our application was really strong and legit, it didn't matter that we really needed that visa, we now simply depended on pure luck! I was really optimistic and had strong belief that we'll get selected. Heck, it's more than 50% chance for it. I was tirelessly checking tens of different forums and blogs where people posted their receipt numbers and were happy being selected. However, still nobody got their application returned, so I was keeping my faith. Days after days, weeks after weeks, it was already May. Still nothing. By that time, I started seeing people who got their packages back. I started to worry and I was right. We were not selected!
This realization was devastating. I really couldn't believe that I got a chance and lost it, not due to my fault, but due to the broken system. Anyway, it took couple of weeks for this to cool off. Since we didn't want to easily give up we were investigating other opportunities and ways for me to transfer to the U.S.
L1 visa was a really good candidate, but since the Branch office of the company had just been officially formed I didn't meet a one year working aboard requirement in order to qualify for it. More on L1 later.
So, with not many options in place our attorney advised that we wait for the next year's filling period and reapply with the same petition, as everything was already prepared. I didn't like much the idea of having to sit here and wait. Worst of all I couldn't plan my future as I didn't know whether I'm staying or leaving. Anyway, month after month and we got close to April, the 1st, 2014. Our petition was rock solid, updated with some new info and was ready to go. LCA from last year was still valid and my degree didn't change 🙂 Off we go. Everything submitted on a day when USCIS began accepting new petitions.
Again, couple of days later same story: H1B cap has been reached. But this time, not 125k+ applications, this time there were more than 170k applications in pool ready to be randomly drawn. Great – I thought to myself. Another year of uncertainty will end how it'll end. Regardless of my prior experience, I still kept the faith. I was still hoping that maybe our petition will get selected. I was believing that we had to get it this time. After two long months of anticipation and hope, this letter was waiting in my inbox: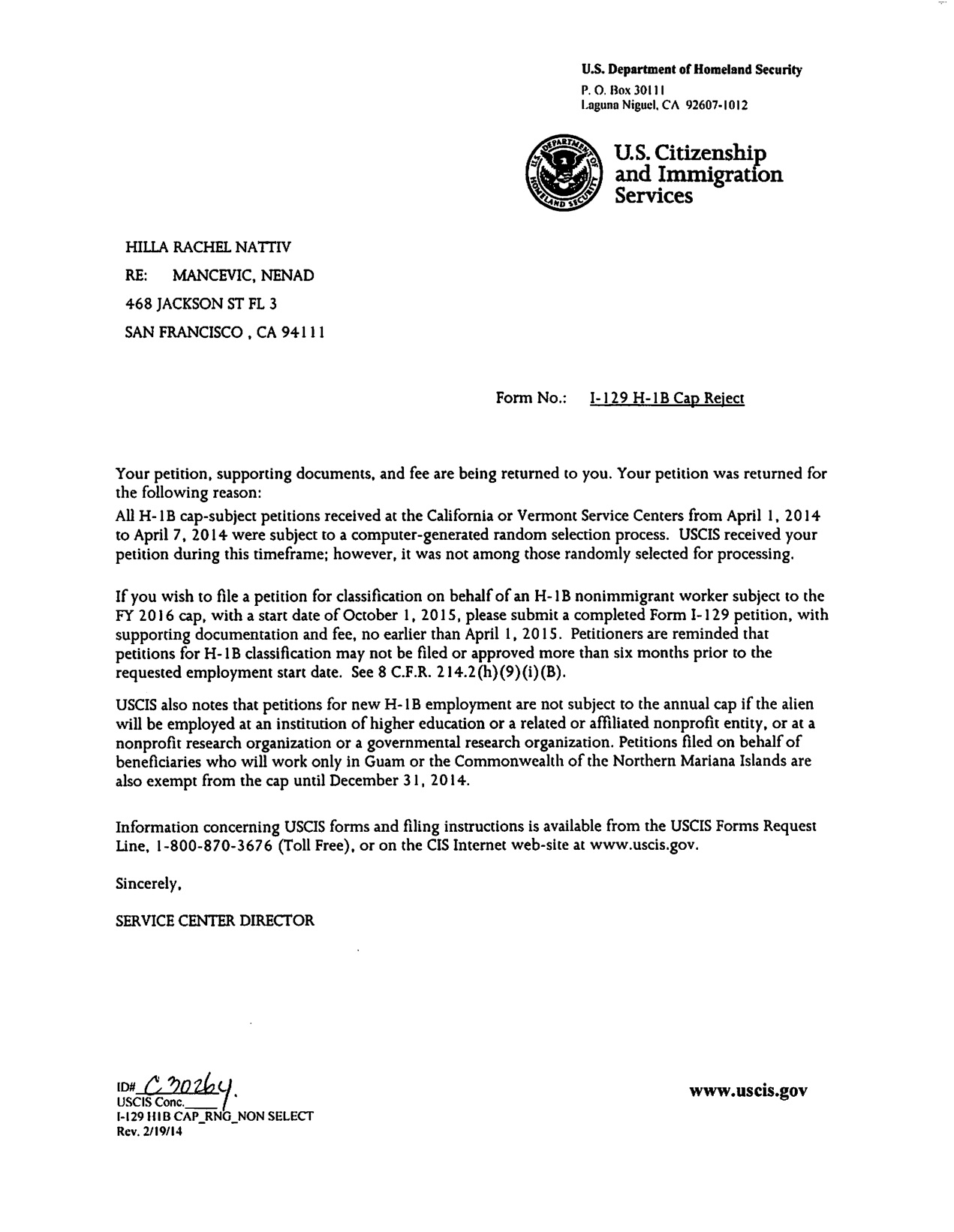 What do you think how I felt when I saw this? I can tell you – it wasn't cool!
I think it's ok to make a short break now and forget about this whole H1B story for a while. Even though it was the second time our petition wasn't picked, we did not give up! There's more to come…